Vietnam has pledged to achieve net-zero by 2050 at the Conference of the Parties (COP26) to the United Nations Framework Convention on Climate Change (UNFCCC), and the country has made tremendous strides in adopting renewable energy, notably wind energy.
Among the ASEAN nations, Vietnam has emerged as a pioneer in the use of wind power and renewable energy.
Due to its geographical characteristics and natural resources, Vietnam has a considerable potential for renewable energy, notably wind capacity.
Vietnam Briefing investigates why wind energy has the potential to replace solar energy as the main renewable energy source in the wake of Vietnam's net-zero commitment at COP26.
Vietnam is anticipated to lead Southeast Asia's green transition due to its abundant wind resources and growing need for electricity, solidifying its position as a major player in the adoption of solar and wind power.
Vietnam has recently been making the most of the potential of a diverse energy mix by utilizing renewable energy sources such hydroelectricity, biomass, solar, and wind energy.
With a goal of 11,800 MW of wind power capacity by 2025, Vietnam has the most aggressive wind power development strategy in ASEAN. This is almost equivalent to Thailand's projected capacity of 3000 MW by 2036 and the Philippines' projected capacity of 2378 MW by 2030, respectively.
The government unveiled a draft of the eighth national power development plan (PDP 8) for 2021, with a focus on 2045, in the beginning of 2021. This plan highlights the nation's goals for renewable energy to take over as the main source, with a maximum of 18.6 GW of solar and 18.0 GW of wind energy by 2030, with no new coal plants anticipated in the upcoming years.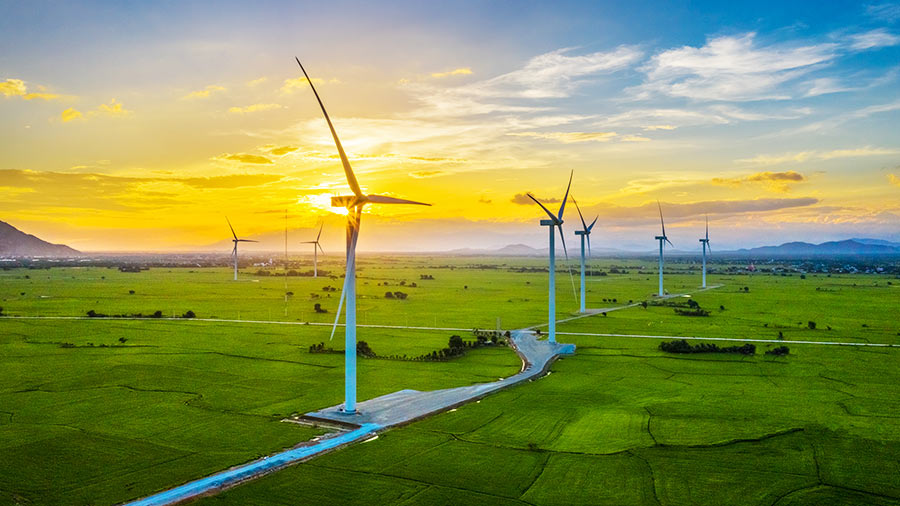 Wind power capacity
With a 3,000 km long coastline and winds that range from 5.5 to 7.3 meters per second, Vietnam has a great natural potential for wind capacity. Vietnam will have the second-highest installed wind power capacity in ASEAN after Thailand at 600 MW by the end of 2020.
In comparison to onshore wind, the nation's offshore wind potential is far greater. Vietnam's offshore wind power capacity might rise to 5–19 GW from 1 GW and its onshore wind power capacity to 17.34 GW from 1.26 GW by 2030, according to the World Bank's Offshore Wind Roadmap for Vietnam. The gross value added (GVA) that this will provide for the nation is probably in the range of $60 billion.
In 15 provinces along Vietnam's coastline, wind development has seen the biggest expansion from a provincial viewpoint. Wind energy installations are primarily located in the coastal provinces of Vietnam in the Mekong Delta, one of four KERs.
A maritime exclusive economic zone of up to 360,000 km2 surrounds the area's shoreline and islands, which have a combined length of around 700 km. For instance, the 72 km long coastline and consistent high winds in the province of Soc Trang make it a prime location for the development of wind energy. Twenty wind energy projects have so far received official approval and will be built in Soc Trang in 2022 and 2023.
Most recently, a memorandum of understanding (MoU) was signed by Orsted, one of the biggest offshore wind farm firms, to build a number of offshore wind projects in the provinces of Binh Thuan and Ninh Thuan.
Vietnam's largest wind power project, Ninh Thuan, which spans 900 hectares and has a total installed capacity of 151.95 MW and a total capital expenditure of US$173.4 million (VND 4 trillion), started operating in 2021. This strengthens the province's position as a leader with 32 solar power projects totaling 2,257 MW and three wind power projects totaling 329 MW.
Favorable feed-in-tariff (FiT)
Vietnam's industry growth is primarily credited to the government's steadfast backing and adoption of hefty feed-in-tariffs (FiTs). According to a 20-year power purchase agreement, the government has offered a FiT of US cents 8.5 per kilowatt-hour (KWh) (VND 1.927) for onshore wind projects and US cents 9.8/KWh (VND 2.223) for nearshore ones since 2018. (PPA). All projects beginning before November 2021 were subject to this.
The majority of onshore wind projects, however, struggled to finish before the deadline in November 2021 as a result of COVID-19. Therefore, in order to reduce financial risk for wind projects that are launched before the new deadline, the government has suggested extending the FiT deadlines from 2021 to the end of 2023.
The Ministry of Industry and Trade (MoIT) has suggested an auction system starting in 2023 that would be similar to that used for solar power projects when the FiT tariffs expire. It provides two choices: a developer auction to sell power to a nearby distributor or an investor auction to begin developments on the purchased property.
The future, however, is still unknown because the government has not yet confirmed whether tariffs or an auction-based system would be imposed after 2023.
Opportunities in wind power
Energy demand is expected to rise by about 8% year between 2021 and 2030 as a result of increasing industrialisation and economic modernisation.
In recent years, Vietnam's renewable energy projects attracted a sizable amount of FDI and private sector investment, supporting their economic sustainability. It is anticipated that the projects in the upcoming investment wave would be much larger, particularly offshore wind projects. Compared to solar or onshore wind projects, these often offer more generation capacity.
Furthermore, compared to other renewable energy sources, offshore wind projects provide the chance to increase capacity at a lower cost and greater level of complexity.
Furthermore, the government does not impose limits on foreign ownership of renewable energy projects, and wind developers are eligible for tax benefits for the first four years of operation. A tax cut of 50% will also be imposed over the next 10 years of operation.
Inadequate regulations, complex technology, costs add to challenges
However, Vietnamese wind power investors have received little support from the government. According to state-owned Electricity of Vietnam Group (EVN), from October 2021, only five more wind power plants with a total capacity of 170MW were recognized for commercial operation by the commercial operation date (COD).
Further, Vietnam does not have adequate regulations to develop large offshore infrastructure projects such as offshore wind farms. This derives from a restricted legal framework on the use of offshore sea areas under the 2012 Law on Sea of Vietnam and Decree 11/2021/ND-CP which is inadequate.
These laws require investors to pay US$125/ha/year to US$300 which would result in significant costs in developing a wind farm. Offshore oil and gas development on the contrary are exempt from such payments.
Wind projects, compared to other renewable projects, are more complex and financially demanding. The operation and maintenance (O&M) agreements for an offshore wind farm is a complex process that requires different levels of skills and long-term commitments from the wind farm operator.
O&M costs of offshore wind farms are significantly higher than onshore. These cover a range of relevant services to ensure asset integrity of components such as offshore wind turbines, foundations, and the offshore and onshore transmission system. Thus adequate expertise and know-how along with a necessary supporting industry is pertinent to developing not just offshore wind farms but renewable energy in general.
Moving forward
Nevertheless, Vietnam has lately made further strides toward expanding its capacity for renewable energy. The industry will probably continue to involve bigger, more expensive, and more technically challenging projects in solar, onshore wind, and offshore wind thanks to a favorable investment climate and different government incentives and regulations.
The government must create a pricing strategy so that investors are informed of impending price increases. Additionally, Vietnam may be able to raise foreign investment, which would aid the nation in achieving its targets for renewable energy, if it can create bankable power purchase agreements (PPAs).
As wind projects require large scale, are emissions-free, and have significant potential to attract FDI, they have the potential to fit into regional power plans. In preparation for its net-zero commitment by 2050, Vietnam should also consider more innovative technical solutions to complement wind storage at low investment cost and with great flexibility at multiple timescales.
Source: Vietnam-briefing.com