Khang Duc is in charge of all stages of design & construction of the wastewater treatment plant. We provide a complete, turn-key design & construction solution.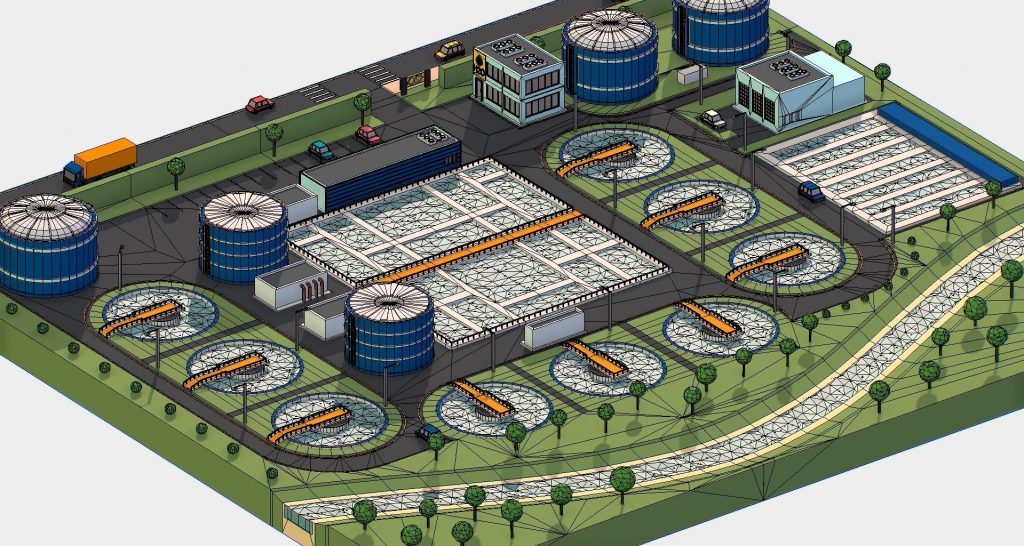 Our goal is not only to complete projects for customers, but also give values & benefits to society & the community, we always ensure:
Project quality.
Project safety.
Environmental Management.
On schedule.
Budget optimization.
The treated wastewater always meets the discharge standards set by the Ministry of Natural Resources and Environment.
Design & construction of wastewater treatment plant
Select process and location.
Build the infrastructure.
Site supervision, equipment assembly.
Provide solutions & technologies suitable to specific requirements of each type of wastewater treatment plant.
Ensure the project works stably and efficiently.
Ensure appropriate and competitive investment costs.
Easily renovate and upgrade the wastewater treatment system when there is a change.
Apply modern wastewater treatment technology.
Construction of wastewater treatment plants for:
New wastewater treatment plant construction.
Upgrade and expand the wastewater treatment system.
Renovating the existing wastewater treatment plant.
Types of wastewater treatment plants:
Industrial wastewater treatment plant.
Wastewater treatment plant for manufacturing industry: packaging, textiles, dyeing, printing ink, beer, wine, milk, beverage, iron and steel, aluminum, metal, etc.
Medical, pharmaceutical and food waste water treatment plants.
Wastewater treatment plant for manufacturing, automobile assembly, electronic components, metal processing (plating) etc.
Paper, pulp, leather, rubber waste water treatment plants.
Aquatic wastewater treatment plants, livestock, slaughter stations.
Why choose Khang Duc?
Khang Duc has many years of experience in the field of construction, especially in the position of EPC contractor such as:
Design & construction of renewable energy projects.
Design & construction of seaports, embankments, inland waterways.
Construction of factories, factory infrastructure, industrial parks.
Our Projects:
During the construction of wastewater/Sewage treatment plants, we also ensure:
Time management / project schedule.
Project Cost/Resource Management.
Project quality management.
Project risk management.
Project contract / Procurement management.
Contact us
Add: SAV8-06.05, The Sun Avenue Building, 28 Mai Chi Tho St., An Phu Ward, Thu Duc city, Ho Chi Minh city.
Tel:
Tender Department: (+84) 28 6281 7417
Business Development Department:
(+84) 963 700 505 | (+84) 28 22 00 33 77
HR Department: (+84) 28 6656 5454
Planning Department: (+84) 28 2237 0075
Email: info@khangducconst.com