US firm backs ORE Catapult collaboration to combine blade repair robot with ultrasonic bolt inspection device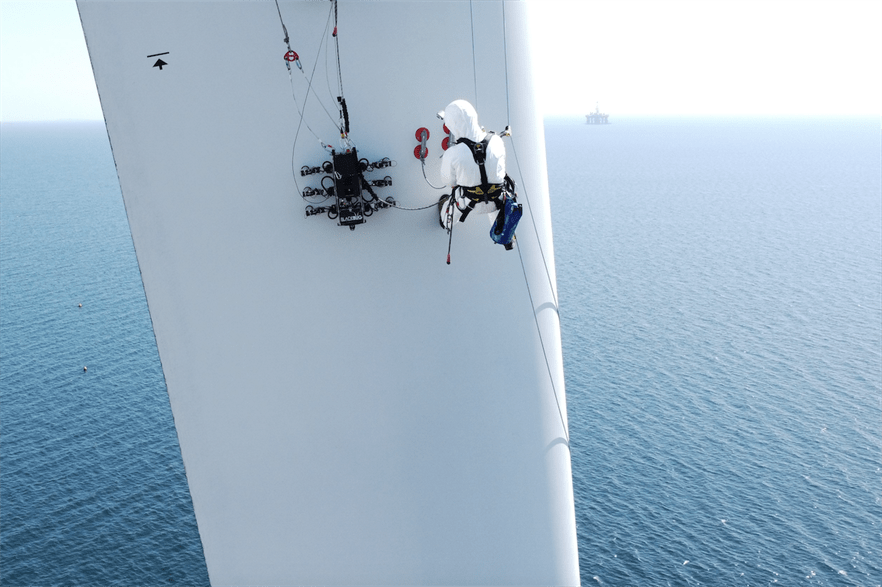 GE Renewable Energy is backing the fusion of two technological solutions to help automate blade and bolt repair and reduce costs.
It will serve as technology adviser to BladeBug and EchoBolt's collaborative efforts.
The two companies' technologies were developed under previous projects funded by and brought together by UK research and development hubs, InnovateUK and ORE Catapult.
BladeBUG's six-legged inspect-and-repair robot can remotely tackle critical infrastructure, including wind turbines. Its developer aims to use the robot to inspect blade surfaces for emergent cracks and imperfections, transmit data on their condition and resurface the blades.
Meanwhile, EchoBolt's hand-held ultrasonic inspection device can detect bolt tension using ultrasonics, negating the need for technicians to loosen and retighten bolts with hydraulic tools.
The new partnership will see the EchoBolt device installed on the BladeBUG robot, so that it can crawl over the turbines and conduct tests using ultrasound.
GE Renewable Energy estimates that the fusion of the companies' technologies could reduce bolt maintenance and repair bills by 75%. By 2030, this could equate to a £150 million (€173 million) annual saving in the UK's wind sector, onshore and offshore.